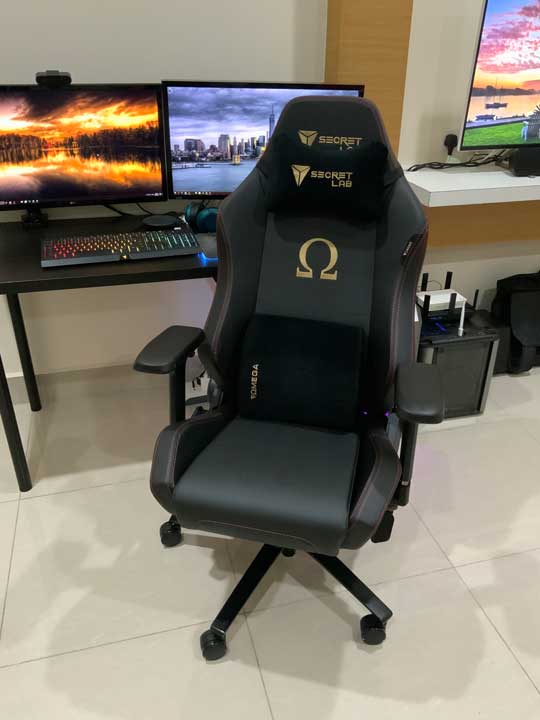 After researching and searching for the most ideal chair for my new workstation, I decided to go with the Secretlab OMEGA series of gaming chairs. I have been using it for the past week and I really love it. So today I am going to tell you my experience, pre and post-purchase in this article and try to do my best in this Secretlab OMEGA 2020 Gaming Chair review.
Do note that this is NOT a sponsored post, and I have purchased this chair at full price.
TL;DR: Get a Secretlab Gaming Chair, it is worth the money.
I have been looking for a new chair for the past few months ever since my Gaming Freak GT Throne broke after 2 years of use. As a web developer, gamer, and overall computer nerd I can safely say I spend 80-90 percent of my waking hours sitting. I need a comfortable chair. When I first purchased my previous chair, I did not do any research at all. I happened to be at my local computer store and saw a few gaming chairs. I thought they looked great, and a brief sit down felt comfortable. So I bought it.
Naturally, that was not the best approach to take when buying something that some may even consider being a small investment. So this time around I was adamant in doing extensive research before coughing up the several hundred dollars that a new chair was going to cost. I looked at a multitude of chair brands, read reviews from countless sources, compare prices as well as the sizes that they were available in. I also compared the different technologies that were used. All this so that I could get the best chair for my body type.
Let's get started;
Chair Research
Based on how I purchased my previous chair. I was certain about what I didn't want. I did not want to purchase a chair that simply looked awesome. Yet was made from poor quality materials, was not comfortable to sit in, and most of all did not fit my body type. I am only 160cm tall so it goes without saying that most chairs on the market would not be ideal for me. My Gaming Freak chair was too big and bulky and honestly, it felt really silly sitting in such a large chair. I researched reviews and comparisons from several sources including Google and YouTube. I even checked recommendations from people on Reddit and Twitter.
The general consensus I received were NobleChairs, IKEA, Herman Miller, or Secretlab. IKEA had good reviews for the Hattefjall which was small and looked great but didn't have much in the way of adjustability. Herman Miller was well about 2000 dollars, so yeah no. NobleChairs were great but the price was a bit too high and the size was not right for my body type. Secretlab on the other hand seemed like a great fit. It had spectacular reviews, and almost everyone agreed that it was the best option. Personally, the main reason I went for it was due to the sizing chart on their website. That inspired confidence in me that I wasn't going to buy a chair that was too big for me. I also read that their customer service is known to be friendly and very helpful.
Secretlab OMEGA 2020 Gaming Chair: Purchase Experience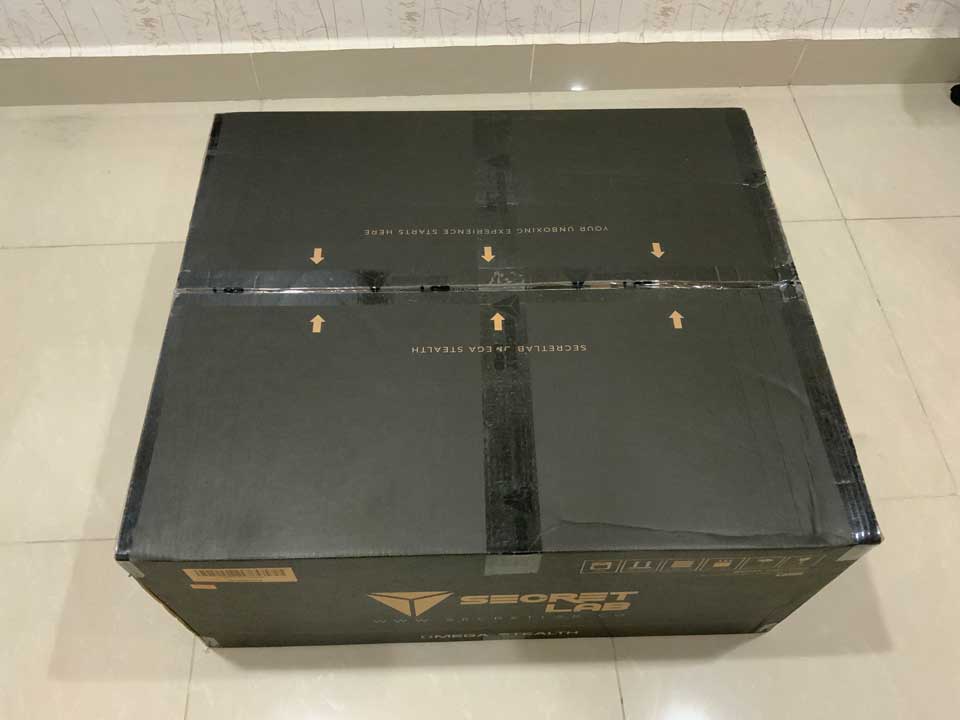 The purchase experience is quite a pleasant one. You are encouraged to purchase directly from their website. They explain this as a cost-saving measure, where the savings from not having a middleman directly translate to you getting the Chair for a cheaper price. The Secretlab website is very user friendly, packed with all the information you need to make a purchase. You can customize the look of your chair and choose between either the PU Leather or the SoftWeave Fabric. They even have a 49-day refund/return policy although I do not think I will be utilizing it.
Typically the chair will be delivered within 1-3 working days. However as I purchased it during the Christmas sale, they informed me they might experience some delays. I found it to be understandable so I went ahead with the purchase. Eagerly checking my email on the hour, they sent me a confirmation email for my order. And another reiterating that they were busy and delays are to be expected. Of course, the email was worded much more politely. To my surprise the following evening I got an email informing me that my order had been shipped. They gave me a tracking number and after 2 days my chair was at my door.
Overall I would have to say I am satisfied and pleasantly surprised with the shipping time as they were experiencing heavy volume.
Assembly Difficulty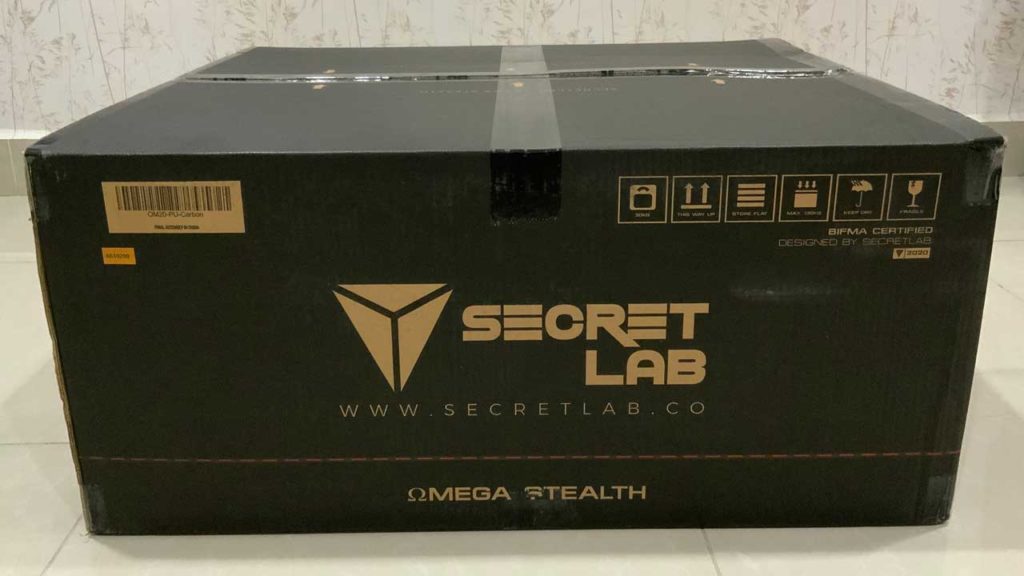 The chair comes in quite a heavy and large box, so be prepared. Ready a trolly or call some friends over to help you bring the chair into your house. Especially if you live in an apartment and have to transport the box from your lobby all the way to your unit. Once done, however, the next steps are much easier.
The chair comes partially assembled. All of its parts and gently and neatly packed so as to ensure no damage befalls your chair during shipping. First, with great care, I placed all of the components flat on the ground and inspected them as instructed by Secretlabs. This is so that should there be any manufacturing defects best to find out now rather than later.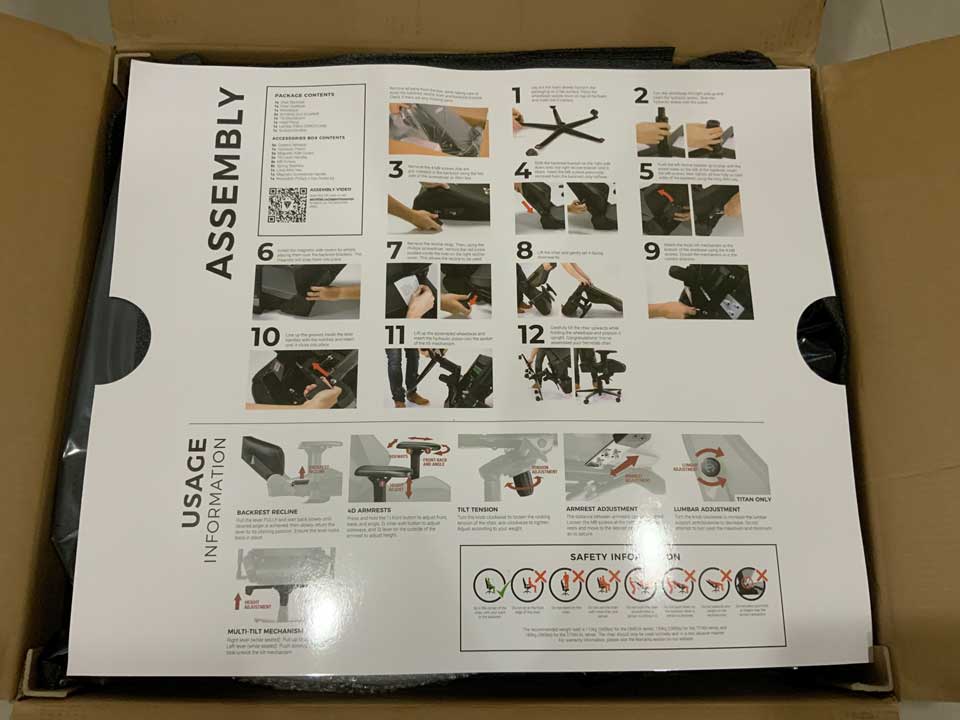 Assembly is very easy as with the box you get a large piece of laminated cardboard with visual instructions on how to proceed. I found this whole process to be very easy, even though I did it alone and completed the assembly within 20 minutes. Unlike some other chair brands, there were minimal amounts of screwing needed and all tools came included in the box.
Secretlab OMEGA 2020 Gaming Chair: Technologies
Secretlab PRIME™ 2.0 PU Leather
Whether genuine or polyurethane, leather has a tendency to peel and/or tear over its lifetime. This is no good. It's PRIME™ 2.0 PU Leather is claimed to be 4 times more durable than regular polyurethane leather and is said to be comfortable for long sessions. Naturally, if you're like me and tend to spill things on your chair this is the best bet as it is easy to clean. Secretlab even sells a leather cleaner if you really wanna keep your chair in the best shape.
Secretlab SoftWeave® Fabric
If you don't ever plan on eating or drinking near your chair, and/or hate leather you can get the SoftWeave edition. Supposedly it is more breathable and durable as they claim it offered maximum comfort. It is apparently made from "dense short yarn and meticulously ground to create a unique ultra-soft and fluffy texture". Depending on your needs you may go with either one. I do not think you can go wrong here. I decided to go with the PRIME 2.0 PU Leather.
Secretlab Cold-Cure Foam Mix
At first, I didn't think much of the Cold-Cure Foam. But after having sat on it for the past week. I gotta say, not bad. It's quite comfortable and has the perfect level of firmness that helped you stay comfortable and pain-free. I was concerned that sitting for long hours would cause parts of my body to fall asleep, but it has not been an issue so far. Definitely much more comfortable than my old chair.
Secretlab Full-Metal 4D Armrests
Its armrests are quite great as well, they offer the standard gaming chair level of customization. You can adjust it forwards and back, side to side, up and down, as well as change its angle to best suit the position of your arms. Where they differ from some other brands is that apart from the top and control mechanisms the entire thing is made from metal. This gives it durability over the long run.
That being said, I did manage to accidentally scratch the top of the right armrest when I was gently pushing away a piece of my clipped nail. This pains me as this chair is like a week old.
Secretlab Signature Memory Foam Pillows
I am usually quite skeptical when it comes to memory foam as I never felt that it was superior to ordinary pillows. However, the two pillows that come with the Secretlab chair are hands down the best gaming chair pillows I ever used. The head pillow even comes with a coating of cooling get, which they say helps keep you cool, although I didn't really notice any cooling effect. That being said, it never felt warm after extended use so maybe it's just me.
Class 4 Hydraulics
Although I have never experienced a hydraulic failure in my chairs before, some have. Naturally, the hydraulics in your chair is really important as they make it go up and stay up. Secretlab uses Class 4 Hydraulics which they claim to be "the best-in-class for consistency, stability, and safety". A claim which is backed up by safety certifications including TÜV LGA, ANSI/BIFMA (by SGS) and ISO9001.
ADC12 Aluminum Wheel Base
Secretlab chairs come with an incredibly strong and durable wheelbase that is made from aluminum. They use a strong alloy of aluminum which gives it great strength and stability. Qualities you want in a chair. They also state that the structural integrity of the wheelbase is further improved by adding additional ribs and gussets.
XL PU Caster wheels
The wheels that come with the chair are quiet, durable, and glide gently and effortlessly over both regular and carpeted floors. They have a much thicker rubber coating when compared with my old chair and this allows for a much smoother experience. Overall with any part of the chair, there is not much to be disappointed about.
Secretlab OMEGA 2020 Gaming Chair: Comfort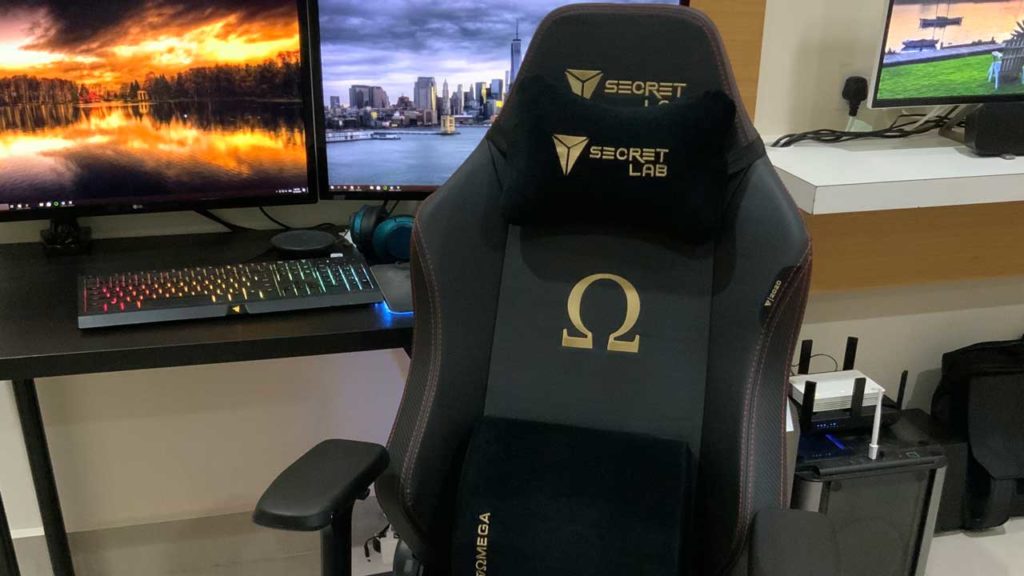 Now while I am certainly not a chair expert by any means, nor have I sat on thousand of chairs in my life. I personally feel that this chair is by far one of the most comfortable I have ever had the pleasure of sitting on. Its customizability and adjustability are great and coupled with its size or lack thereof is proving to be an excellent fit for my body type. It's great to lean in or sit on. The foam is awesome, the pillows add to its comfort. It has great lumbar support and overall spectacular build quality. All this adds up to a fantastic chair that is suitable for extended marathons of sedentary lazy sitting, and the occasional nap.
Price Comparison
Now, let's compare the price of the Secretlab OMEGA chair to other chairs both within the gaming category and otherwise. Personally, I paid MYR1752(406USD) for my chair. I got the Secretlab OMEGA 2020 Stealth PU Leather edition. Based on the model and edition of the chair, the price may vary. Generally expect to pay between 400 and 500 USD for the Secretlab OMEGA series of chairs.
This puts its price point in between budget gaming chairs you can get starting from MYR400(100USD) and insanely expensive Herman Miller chairs that start at MYR7000(1750USD). Even though some have suggested going with a second-hand Herman Miller chair, personally who wants to sit in a chair that has been soaking is a stranger's filth for a few years.
Sizing Guide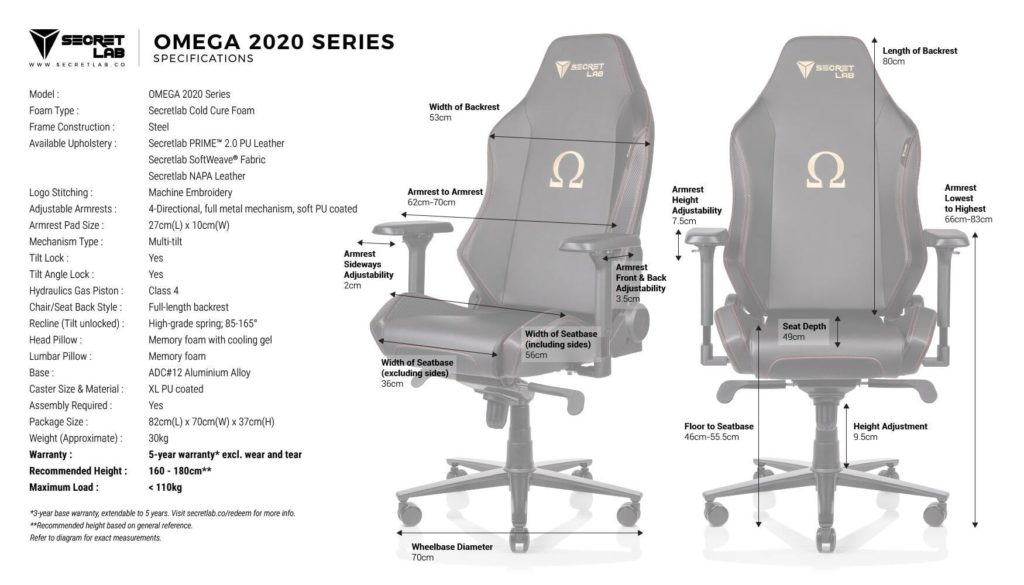 The Secretlab Omega series is perfect for those who are between 160cm(5 foot 3") and 180cm(5 foot 11") tall. It is designed with a maximum weight of 110kg(242lbs). If you fall under this category then this chair is a perfect fit for you. There are two other models, the Titan, and the Titan XL.
The Secretlab TITAN series and Secretlab TITAN XL series share all of the features of the Secretlab OMEGA series except it is larger and has built-in lumbar adjustments. Since it has a built in lumbar adjustment knob, it doesn't come with a lumbar pillow.
The Secretlab TITAN series is designed for people who are between 175cm(5 foot 9") to 200cm(6 foot 7") in height and those who weigh less than 130kg(290lbs). If you are taller or weigh more then you should opt for the Secretlab TITAN XL series instead which has a recommended maximum size of 208cm(6 foot 11") and 180kg(390lbs) respectively. Do not that the Secretlab TITAN XL series is not available in some countries. It was not an option in Malaysia where I reside.
There is even a detailed measurement specification of the chair available on their website for each model.
New 2020 Model vs Old Models
There isn't much difference between the 2018 model and the 2020 model of the Secretlab OMEGA series of chairs. The two main differences are going to be the PRIME 2.0 PU Leather and the Armrest has been redesigned to have more rounded edges. This makes the armrests more comfortable. The PU leather is also better as with the PRIME 2.0, you are supposedly getting a more durable PU leather that is less prone to peeling or cracking. The 2020 models of Secretlab chairs also come with an additional extra year of warranty as well.
Warranty
The Secretlab OMEGA series comes with 3 years of warranty out of the box. However, by posting a picture of your chair on social media, you can have the warranty extended for another 2 years. While this practice is certainly a bit iffy, one can understand why it would be an excellent marketing tool. The warranty covers your usual product defects which include the frame, and the chair mechanisms. Naturally, they don't cover the usual wear and tear or any damage that comes from user negligence. That being said, in Singapore, they have a peel protection guarantee where they will replace your Backrest and Seat base for no extra charge. The peel protection guarantee lasts up to 5 years from the date of purchase. Sadly for whatever reason, the peel protection guarantee is not available in Malaysia.
Customization Options
While you can't customize the main frame and features of the chair on any of the Secretlab models you can choose your aesthetic. You can also choose between either the PRIME™ 2.0 PU Leather or the Secretlab SoftWeave® Fabric both of which are super comfortable. Aesthetics wise, you can select from a number of different colors and limited editions. They even have a Dark Knight special edition option. If that doesn't appeal to you, they have a Cyberpunk 2077 option as well.
Personally, I went with the timeless Stealth option. The Stealth option has carbon fiber patterns on the sides and black on the rest as well as red stitching. Personally, I like the carbon fiber trim and bold red stitching, so that's what I went with. There really are no wrong options here, they all look amazing. However, if you want to pick the Secretlab OMEGA 2020 Gaming Chair that I chose you can go with the Stealth variant.
Secretlab OMEGA 2020 Gaming Chair Review
To summarize the chair is an overall winner and comes at a great value. It has a long and extended warranty period that is backed by excellent customer service. There are plenty of cosmetic options to choose from, without having to sacrifice your comfort. Secretlab has designed and built their chairs from the ground up using great technologies to ensure a durable and most importantly comfortable product. No matter which option you go with, you will be able to find a chair that fits your body type. Until I find a better chair, this is going to be the brand I will be recommending from now on. For those who are short like me, the Secretlab OMEGA 2020 Gaming Chair is the way to go. No, like seriously, get this chair. You will not regret it.